S1E3 - Episode 3: To Da Club and Back Again
1 year ago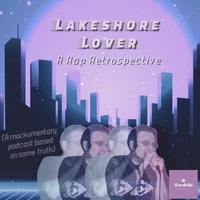 Episode Notes
With a change in auricular scenery, Lakeshore Lover moves into fresh territory with a new name. And fans. And music. And shoes. But he kept the old shoelaces. He is who he is. Megan Moore takes you on a trip through new club music...but with a familiar twist. Also, there's mention of Vanilla Ice.
Hosted by Megan Moore.
Presented by Wordella.
CAST:
Megan Moore - Kimberly Snapp
Brad - Bryan Christopher
Lakeshore Lover - Lakeshore Lover
Support Lakeshore Lover: a Rap Retrospective by contributing to their Tip Jar: https://tips.pinecast.com/jar/lakeshore-lover-a-rap-retrospe
Find out more at https://lakeshore-lover-a-rap-retrospe.pinecast.co