S1E5 - Episode 5: Swan Song
1 year ago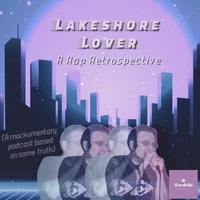 Episode Notes
The final episode of Season 1. Has Lakeshore Lover inspired anyone? Heck yes, and his name is Lil Thur$tee. Also, Megan Moore gets to the heart of Lakeshore Lover's penchant for constant retiring. Plus, Lily. And LSL has a surprise for Host Megan Moore. Of course, Megan Moore.
Hosted by Megan Moore.
Presented by Wordella.
CAST:
Megan Moore - Kimberly Snapp
Brad - Bryan Christopher
Lil Thur$tee - Himself
Lily - Nancy Anne
Lakeshore Lover - Lakeshore Lover
Checkout Lil Thur$tee's Soundcloud
Support Lakeshore Lover: a Rap Retrospective by contributing to their Tip Jar: https://tips.pinecast.com/jar/lakeshore-lover-a-rap-retrospe
Find out more at https://lakeshore-lover-a-rap-retrospe.pinecast.co