S1E2 - Episode 2: Deep in Old School's Hole
1 year ago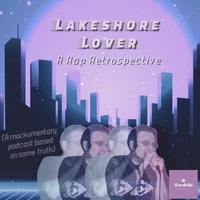 Episode Notes
Lakeshore Lover's knowledge goes back decades of years. Almost to the beginning of the late-middle and middle-later 20th century. That's a lot of rappers. Also find out how LSL was discovered. (READ AS A CLICKBAIT HEADLINE) It's more astounding than you think. And learn about LSL's first album of glorious magnitude.
Hosted by Megan Moore.
Presented by Wordella.
CAST:
Megan Moore - Kimberly Snapp
Brad - Bryan Christopher
Lakeshore Lover - Lakeshore Lover
Support Lakeshore Lover: a Rap Retrospective by contributing to their Tip Jar: https://tips.pinecast.com/jar/lakeshore-lover-a-rap-retrospe
Find out more at https://lakeshore-lover-a-rap-retrospe.pinecast.co