S1E1 - Episode 1: Small Town Called Chicago
The first episode explores the early days of Lakeshore Lover's foray and initial career in hip hop.
1 year ago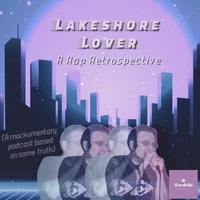 Episode Notes
Lakeshore Lover had many nicknames besides LSL. Plato or Rap, Mediocre Genius, and Midwest Famous were some. Learn about the early decades of his rap "career" with interviews and clips from the 80s and 90s. And some music. Maybe.
Hosted by Megan Moore.
Presented by Wordella.
CAST:
Megan Moore - Kimberly Snapp Brad - Bryan Christopher Lakeshore Lover - Lakeshore Lover
Support Lakeshore Lover: a Rap Retrospective by contributing to their Tip Jar: https://tips.pinecast.com/jar/lakeshore-lover-a-rap-retrospe
Find out more at https://lakeshore-lover-a-rap-retrospe.pinecast.co