S1E4 - Episode 4: All the Hits Fit to Spit
1 year ago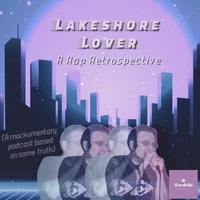 Episode Notes
Megan stalks...tracks down Lakeshore Lover at his home. Clips of LSL in the wild promoting his books. Not wild like the forest or jungle, but the wild as in public places. With people and everything. Also, LSL reads lines from unproduced songs that should probably stay unproduced. But are still awesome. And there's Brad.
Hosted by Megan Moore.
Presented by Wordella.
CAST:
Megan Moore - Kimberly Snapp
Brad - Bryan Christopher
Lily - Nancy Anne
Lakeshore Lover - Lakeshore Lover
Support Lakeshore Lover: a Rap Retrospective by contributing to their Tip Jar: https://tips.pinecast.com/jar/lakeshore-lover-a-rap-retrospe
Find out more at https://lakeshore-lover-a-rap-retrospe.pinecast.co